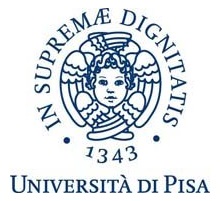 Website: www.unipi.it
Role in the project: Leader of Training activity (WP6); Leader of Pilot 5 Tuscan-Emilian Apennines – Garfagnana
The University of Pisa, founded in 1343, is one of the most ancient and prestigious universities in Europe.
UNIPI has twenty large departments covering all disciplinary areas, with high-level research centres in the sectors of Economics, Humanities, Computer Science, Engineering, among others. The academic staff counts around 1400 professors and researchers, 1500 administrative employees, while there are more than 50,000 enrolled students (B.Sc. plus M.Sc.) including students from other Italian regions and from abroad; more than 700 PhD students are enrolled and about 220 of these graduated in 2019. The vitality of higher education and scientific research determines its strength: UNIPI is committed to promoting and supporting responsible research in every field of knowledge, encouraging responsible innovation and openness to new subjects and trans-disciplinary collaboration. Thanks to the quality of the research undertaken by its academic staff, individually or in teams, UNIPI holds a prominent position in the national and international scientific context.
The Department of Political Sciences welcomes a wide range of degree programmes, including research courses (bachelor's, master's, doctoral) in which the social and political disciplines (history, philosophy, law, economics, sociology, and communication) are in constant dialogue with innovative methods and tools. The Computer Science (CS) department, Dipartimento di Informatica (www.di.unipi.it), has a faculty of 60 tenure-tracked scholars, with pioneers and influential scientists in most traditional and novel areas of the computer and information sciences. The CS department is pursuing many interdisciplinary research initiatives prompted by the influence that "big data" and ICT are having on science, and the socio-economic sciences in particular. The CS department has a long-lasting partnership with CNR, the Italian National Research Council, the ICT institutes ISTI (Information Science and Technologies Institute) and IIT (Istituto di Informatica e Telematica) located in Pisa, with many common projects and laboratories. In 1994, UNIPI and CNR founded the Knowledge Discovery and Data Mining Laboratory – KDD LAB, one of the earliest labs focused on data mining. Recently UNIPI and CNR have given rise to the European Laboratory on Big Data Analytics and Social Mining www.sobigdata.eu in order to team up a critical mass of multi-disciplinary scientists that pursued pioneering work on the various facets of big data and social mining, and integrate their big data and tools and systems and networks of international and interdisciplinary collaborators in academia, research and industry. The goal of this initiative is properly the one to create a European-wide research infrastructure on Big Data Analytics and Social Mining, capable of boosting research and innovation in the deployment of big data analytics, social mining and privacy/trust technologies to face global challenges.
---
Key person(s)
Prof. Dr. Enrica Lemmi – Full Professor in Geography at the University of Pisa, Department of Political Sciences. Managing director for Tourism, Education and Research at Fondazione Campus in Lucca. Director of the Master in Hotel Management and Digital Tourism organized by the University of Pisa and Fondazione Campus. Since 2017, speaker at Ecosistemi Digitali and Advisory board at BTO 2019 and 2020. Since 2015, President of the Technical-Scientific Regional Committee of Fondazione ITS "Tourism, Art and Heritage". Technical Coordinator of various European projects: H.O.S.T. (The Heritage of Olive Tree for Sustainable Tourism COSME programme 2014); S.C.O.R.E. (Support for Capacities for Tourism of Retourning Emigrants, 2016); H.E.R.I.B.I.T.S. (Heritage Best Practice Models of Crowdfunding Intelligence to Enable the Culture Economy, 2017). Since 2012 teacher of Economic and Political Geography at Accademia Navale in Livorno. Since 2010, member of the PhD scientific board in Geopolitics at the University of Pisa. Since 1996, researcher carrying out numerous studies in the field of Urban Geography and Tourism Geography. Research Doctorate in Urban and Regional Geography in 1994. Degree with honours in Literature in 1984. Author of numerous publications, and speaker at many conferences in Italy and abroad. Contact: enrica.lemmi@unipi.it