Location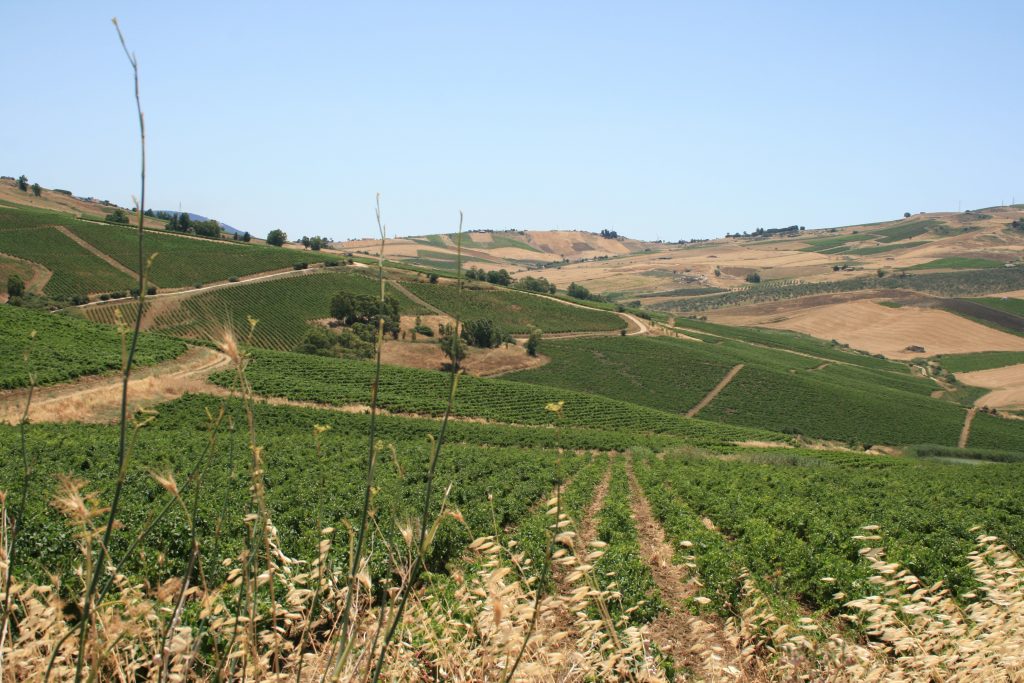 The Monti di Trapani area is located in the north-western corner of the island of Sicily, in southern
Italy. Specifically, we will focus on three municipalities in Trapani province: Calatafimi-Segesta, Custonaci and Buseto Palizzolo.
Responsible partner: G.A.L. Elimos

This pilot case will be directly linked to the Spanish and to the Portuguese cases and will act as a cross border action.
---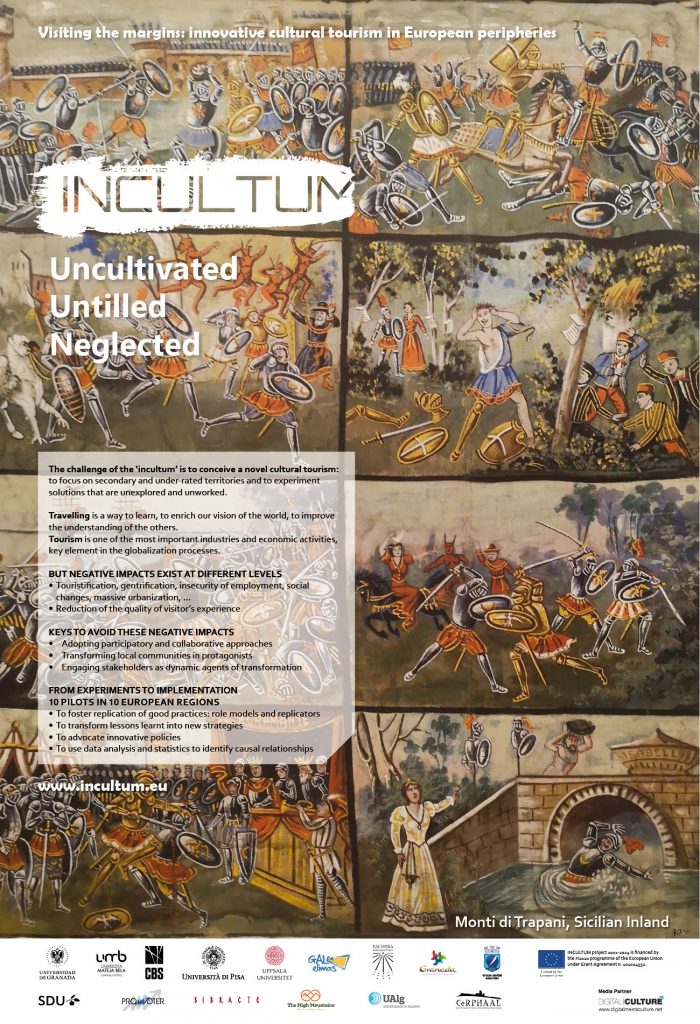 Context
The cultural landscape in the whole of this area has remained almost intact, except in large cities, allowing the fossilization of certain elements that today host relevant touristic potential. INCULTUM will focus on the three municipalities in the inland of the Trapani territory, which are away from traditional tourist itineraries but with great cultural potential:
1. Agrarian heritage: persistence of traditional irrigation systems, of clear Islamic legacy, especially in Calatafimi-Segesta, where previous projects (such as MEMOLA) documented numerous associated hydraulic systems and infrastructures (mills, irrigation channels, wells, fountains, watering holes), both in the urban area and the surrounding territory. The traditional use of water for irrigation still displays the inherited characteristics of Islamic culture, which can be an incentive for the creation of tourist resources while promoting the development of an economically depressed area. These traditional systems are still used today for the cultivation of native citrus varieties in gardens and orchards of great beauty.
2. Rural heritage built: represented by "bagli", these are constructions linked to agricultural activity, dispersed habitat nuclei, many of them of clear Islamic origin, which have survived until recent times. They are buildings in which several families lived dedicated to cultivation, management of natural resources (soils and water) and, usually, livestock farming. In many cases they are monumental structures formed by several houses with associated elements such as watering holes, fountains, stables, chapels, etc.
3. Archaeological heritage: Thanks to previous projects (FP7 MEMOLA in particular) most outstanding elements of each population are known: Calatafimi-Segesta has the Castello Eufemio and the Borgo (old neighbourhood that retains part of its organizational structure despite the strong abandonment), Terravecchia (the neighbourhood from which the entire population emerges, linked to the castle) and churches of great artistic interest (Carmine, Crocifisso, etc.). Custonaci has Pizzo Monaco, a fortified granary from the Islamic era, dated to the 11th century. It is a unique structure in Italy, formed by a fortified enclosure with numerous inside cells dedicated to the storage of agricultural surpluses and the most precious goods of the members of the Islamic community that lived in a nearby settlement.
Finally, Buseto Palizzolo has Monte Luziano that seems to have been another fortified granary of Islamic times. These different archaeological elements are related to the daily activities of the different communities that have inhabited this territory over time.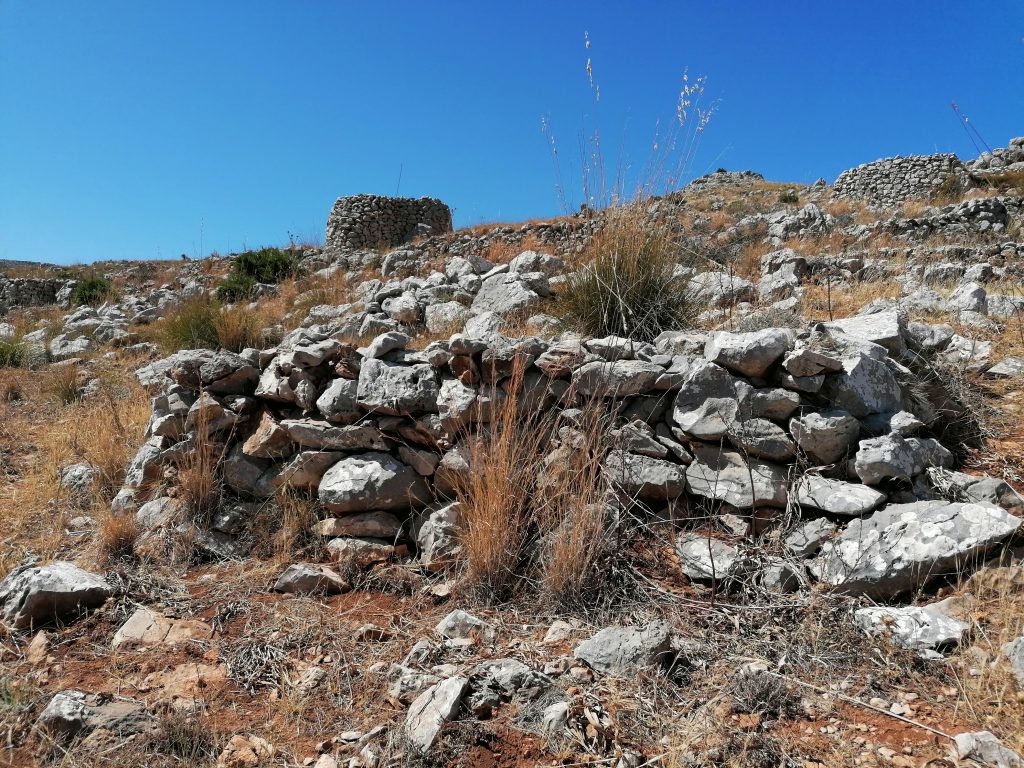 Actions
Cultural routes based on agricultural heritage: The hydraulic elements, of clear Islamic origin, remain in the territory in a state of critical abandonment. The recovery of these elements (pools, ditches, wells, mills), can serve as a model of citizen participation as well as a stimulus to attract visitors. In addition, the reactivation of the crops of local species (orange and citrus) could be a very interesting focus of activity for the depressed local economy.
Cultural routes based on the archaeological heritage: these activities will be aimed at valuing the archaeological heritage, both of the fortified granaries of Pizzo Monaco and Monte Luziano, as well as the urban heritage of Calatafimi-Segesta, based on "community archaeology". On the basis of previous experience, we know the strong social, and touristic, demand that these types of initiatives have and, therefore, the success that their organization implies.
Training: we will carry out activities that will allow local groups to be trained to carry out tourism initiatives in the territory.

Communities involved
Local communities from the municipalities involved, as well as local associations interested in rural sustainable heritage.

Expected results
Valorise the territory and the rural and archaeological heritage of an economically depressed area far from traditional tourist circuits. With the proposed actions we also want to give visibility to rural groups by empowering them as valid agents by complementing their traditional knowledge with innovative elements that attract visitors.

Associated partners
Municipalities of Custonaci, Buseto Palizzolo and Calatafimi Segesta and Associazione Bosco Angimbé.

Cross border and international nature of the pilot case
This pilot case will be directly linked to the Spanish and Portuguese cases and will act as a cross border action.
Innovations
Irrigation canals cultural routes managed by local farmers communities
Water heritage discovery for a sustainable future
Local products and markets promotion
Digital oasis map and tools
.