Hybrid event, 9th November 2022, h. 16 EET
organized by Promoter s.r.l, Chair: Antonella Fresa
The event was organized as an integral part of the 2022 edition of the international conference EUROMED in Limassol (Cyprus), to discuss about the role of community engagement and citizen participation in enhancing and promoting sustainable tourism in peripheral areas that are not often part of the mass tourism itineraries. INCULTUM research, experiments and findings will be presented to show the efforts oriented to foster positive impacts of cultural tourism, and to demonstrate the high potential of the marginal and peripheral places, cultural heritage and resources when managed by local communities and stakeholders. The event was realized with participation of other EU-funded projects IMPACTOUR and TExTOUR, to enrich the discussion, share best practices and explore synergies.
This workshop was addressed to cultural managers, cultural heritage institutions, local communities with a stake on tourism potential of their areas, policy makers and researchers on sustainable tourism and local promotion.
More information about EUROMED 2022: https://euromed2022.eu/.
Read our blogs about the event:
---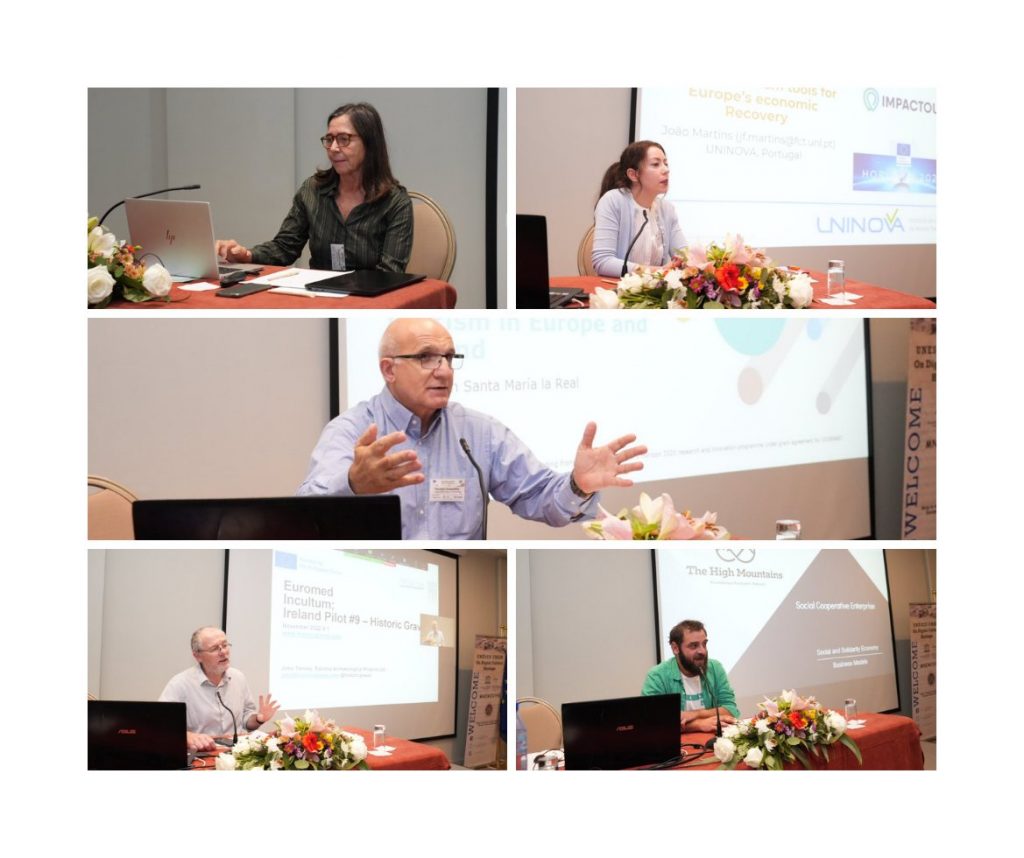 ---
INNOVATIVE CULTURAL TOURISM IN EUROPEAN PERIPHERIES
Agenda
PART 1 – Presentations
Introduction: scope of this workshop (PDF)
Antonella Fresa, Promoter
Antonella is working on European projects since the nineties, and since 2002 she is technical coordinator and communication manager of national and international projects in the domains of digital cultural heritage, creativity and co-creation, citizen science, smart cities, digital preservation and e-infrastructures.
Policies and participatory model development (PDF)
Kamila Borsekova, Matej Bel University
Kamila is Head of the Research and Innovation Centre at the Faculty of Economics with a profound interest in regional and urban topics. Her main scientific research is in the field of smart and creative cities, resilience, and sustainable urban and regional development.
Impact, evaluation and exploitation of the plurality of paths to market for participatory approaches to local tourism
Carsten Jacob Humlebæk, Copenhagen Business School
Carsten is Associate professor in Cultural and Social Analysis with particular focus on Identities in Spain, Europe and Latin America at the Department of Management, Society and Communication. His research focus is on the processes of collective identity formation as a social and narrative phenomenon as well as on the dialectical relationship between (nation) branding and (nation) building.
IMPACTOUR – IMproving Sustainable Development Policies and Practices to access, diversify and foster Cultural TOURism in European regions and areas
João Martins, Nova School Of Science And Technology | FCT NOVA
João is an Associate Professor with HabilItation and Head of the Electrical and Computer Engineering Department, Faculty of Sciences and Technology, NOVA University of Lisbon, Portugal.His research interests are mainly in energy efficiency, alternative energies and power quality, intelligent and energy efficient buildings, heritage buildings, energy awareness, smart grid renewables integration.
TExTOUR – Social Innovation and TEchnologies for sustainable growth through participative cultural TOURism
Daniel Basulto García-Risco, Fundación Santa María la Real del Patrimonio Histórico
Daniel is analyst of conservation parameters, and expert in architecture, coordination, and management of European projects. In TExTOUR he is project coordinator, with overall goal to integrate cultural heritage, tourism activities and local communities in a sustainable way to achieve a greener environment, a healthier economy and participation of communities.
PART 2 – Highlights from the INCULTUM Pilots
Altiplano de Granada – José Maria Martin Civantos, University of Granada
Escape into the archipelago landscape – Marina Toger, Uppsala University (PDF)
Mining treasures of Central Slovakia – Kamila Borsekova, Matej Bel University (PDF)
Historic Graves of Ireland – John Tierny, EACTHRA
Aoos, the shared rived – Sotiris Tsoukarelis and Thaleia Pantoula, The High Mountains cooperative
Vjosa, the shared river – Eglantina Serjani and Ardit Miti, CeRPHAAL
Tuscan-Emilian Apennines, San Pellegrino in Alpe – Michela Natilli, University of Pisa (PDF)
---
INCULTUM NEWSLETTER
By compiling the form below, your contact will be included in the recipients of the INCULTUM Newsletter.